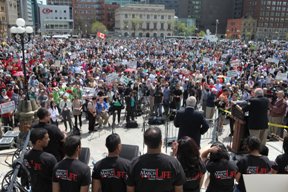 There is a growing gap between public opinion and public policy when it comes to restrictions on abortion. A majority of Canadians (60%) believe that children in the womb should be protected at some point during the pregnancy. The percentage of Canadians opposed to sex-selective abortions is much greater, at 92%, with only 5% agreeing that sex-selective abortions should remain legal. Due to medical advances and an increased awareness of life before birth, it's no surprise that Canadians are disgusted there is no protection for children in the womb at any stage of pregnancy. The time has come for Parliament to fulfill its obligation to introduce and pass laws that protect pre-born children. In 1988, the Supreme Court of Canada struck down the legislation that was in place due to unequal access to abortion services. They instructed Parliament to come up with a new law that balanced the rights of the child with that of the woman. It's been close to 25 years since then, and Parliament still has not heeded that instruction. We should not be proud about this. It's time to set things right.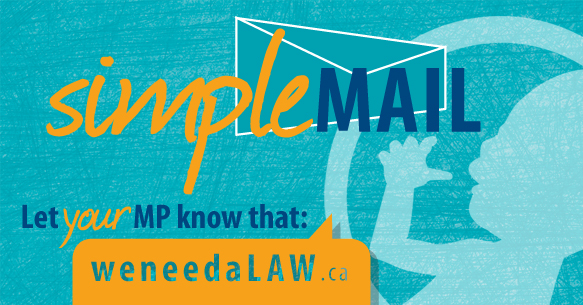 Please click the SimpleMail icon on the left to send a letter (content below) to your MP, the Justice Minister and the leaders of each party.
---
Dear,(Name of MP)

As you may be aware, Canada is among only a small group of countries that allow abortion on demand throughout all 9 months of pregnancy. I am writing to you as one of a growing majority of Canadians who find this morally unacceptable.
It is not surprising that the gap between public opinion and public policy, regarding the need for an abortion law, is widening. Medical advances, including high tech ultrasound technology, reveal with certainty the humanity of children in the womb. How then is it possible that abortions are still legal, for example, in the 3rd trimester? I believe this to be an egregious violation of the fundamental right to life of pre-born humans, and I want to encourage you to do all in your power to address this appalling reality.
Recently, I was introduced to a campaign with a mission to create a groundswell of support for federal abortion legislation. It's called WeNeedaLAW.ca and I agree with what they are saying. In fact they are speaking for a majority of Canadians. A poll conducted by Environics in 2013 said that 60% of Canadians believe children in the womb should be protected at some point during pregnancy. Another one indicated that when asked specifically when abortion should be illegal, 77% responded with, "in the last three months" or earlier.
It is clear to me that abortion is a sensitive topic among Canadians, even more so for you as an elected legislator. But that shouldn't prevent us from doing what is right. I have joined the movement of Canadians who want abortion legislation. I think Canadians are mature enough to have this discussion, and I think the same of parliamentarians. It is my hope that the day comes soon when our country doesn't share the same distinction of North Korea and China, as countries without any restrictions on abortion.
Sincerely,