Last week the Native Women's Association of Canada released a strong endorsement for the Protection of Pregnant Women and Their Preborn Children Act. President Dr. Dawn Lavell Harvard states, "This bill will enhance the rights of Aboriginal women and girls in Canada and address some of the serious discrimination they face by ensuring that justice is served for our pregnant Aboriginal sisters and their unborn babies." She also describes how many of the missing and murdered Aboriginal women were pregnant at the time of their deaths – "a fact that many people are not aware of."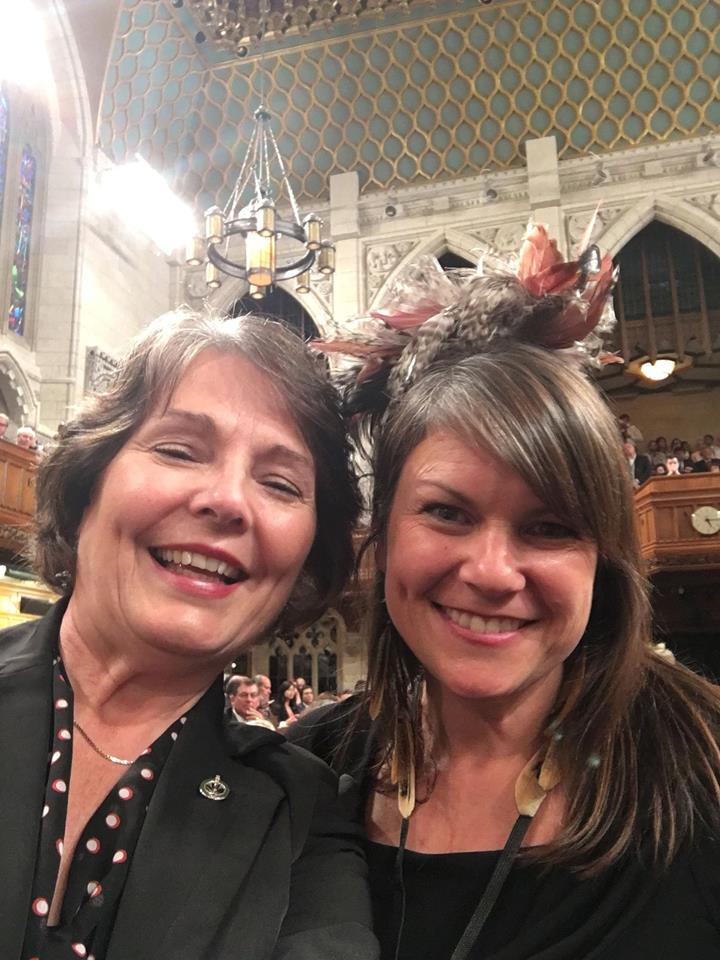 MP Cathay Wagantall & Dr Dawn Lavell Harvard from the Native Women's Association of Canada, posted on Wagantall's Facebook page.
The endorsed bill is C-225, a private member's bill introduced by Member of Parliament Cathay Wagantall earlier this year. According to Wagantall, her bill would "add new sentences for criminals who knowingly harm a pregnant woman and her fetus." As indicated by the short name of the bill – Cassie and Molly's Law – the genesis for C-225 is the tragic story of Cassandra Kaake and her daughter Molly who were brutally murdered nearly eighteen months ago.
Since December 2014 the families of the murder victims have been protesting the fact that Canadian law refuses to recognize the life and value of little Molly – even though she had been very much alive for thirty weeks prior to being murdered.
Jeff Durham, the partner of Cassandra Kaake,father of Molly and spokesperson for the Molly Matters campaign, summarizes the campaign by saying, "The premise of our cause, first and foremost, is that a woman who has chosen to become a mother deserves and should have the protection of law for the life that represents her choice."
C-225 does nothing to change the status quo on abortion in Canada (abortion remains legal for any reason up to the moment of birth). It is a common sense piece of legislation that would simply level the playing field when it comes to protecting a woman's choice. After all, if we are going to protect the right to choose to abort a child, shouldn't we also protect a woman's choice to carry her child to term safely?
Nearly a decade ago, when a similar bill was introduced, it had overwhelming support from the Canadian public. While that bill failed to pass due to a federal election it appears that Wagantall is working hard to ensure that the overwhelming public support for such a law translates into policy this time around.
The endorsement from the Native Women's Association – whose collective goal is to enhance, promote, and foster the social, economic, cultural and political well-being of First Nations and Métis women within First Nation, Métis and Canadian societies – should go a long way in silencing some of the critics of Cassie and Molly's law. In spite of Wagantall's bill being a commonsense piece of legislation, there is a small handful of self-proclaimed women's rights activists who apparently only advocate for the right to have an abortion, and not the right to give birth to a child. Standing up for women should include protecting their right to carry a child to term. A cursory glance at the Molly Matters website shows that Cassandra Kaake and her family were excited about Molly's birth. Yet the law refuses to protect that choice.
We should not accept that abortion of unwanted preborn children is such a sacrosanct act that we refuse to protect wanted preborn children and their pregnant mothers from injury or death at the hands of violent criminals. Clearly Wagantall and Durham are not satisfied with the status quo and are working hard to enact legislative changes. The endorsement from the powerful voice of the Native Women's Association of Canada provides a welcome boost to their efforts.