In the midst of COVID-19, abortion continues. All provinces have assured media and government that abortion is considered an "essential service" due to the time-sensitive nature of the procedure. So, while other elective surgeries and many broader procedures are being postponed to free up doctors and make space in hospital beds, abortion continues.
When will the Canadian public wake up to the deeply contradictory stance of staying home to protect the vulnerable, while keeping abortion clinics open to kill the vulnerable?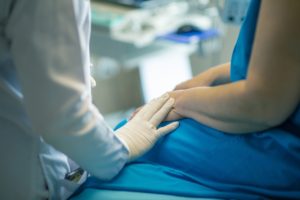 Recognizing the value of life
Earlier this month, groups of university students ignored social distancing recommendations to party in Florida for their spring break. The online reaction was harsh and unequivocal: go home. Think of others. Health care workers continue to share posts asking Canadians to stay home so that they do not become overwhelmed with patients. Canadians have responded with appreciation and applause for these selfless frontline workers.
An article on Global News stated that this virus is "bringing out the worst in a minority of people, even while others practice generosity and social distancing." Isn't it interesting that they characterize "the worst in people" as thinking only of themselves, at the possible expense of the vulnerable? The pro-life movement has always made this point: when it comes to the lives of others, we as society have a responsibility. All lives are valuable, and those who are more vulnerable need more protection.
The vast majority of those dying from COVID-19 around the world are elderly, and had some pre-existing health condition. We recognize the vulnerability of these people. Those of us who are less vulnerable to serious illness still stay home as much as possible, and look for ways to support those who are quarantined or isolated. We willingly close schools, stores, and churches. These are radical, selfless measures that show our recognition of and willingness to live in community.
A pro-life response
The response we see to COVID-19 is essentially a pro-life response. The majority of Canadians are willing to accept significant inconvenience, stress, and change in their own lives for the benefit of the lives of others. This is no different than being faced with an unplanned pregnancy and being willing to accept inconvenience, stress and change in your life for the sake of the life of someone else. Whether you are the one with an unplanned pregnancy or whether it is someone else in your life, we all have a role in helping the most vulnerable.
Perhaps the only difference is in the wave of societal support for the restrictive measures being used to fight COVID-19. Perhaps if we could see that same wave of support around a woman facing an unplanned pregnancy, we would see the same willingness to accept restriction and to adapt in a way that honours the value of all life. Protecting life should always have societal support.
Opportunity and responsibility
The response to COVID-19 contradicts the idea that individual autonomy trumps the collective good. COVID-19 will likely affect someone we know. Abortion likely already has affected someone we know. In this way, both also affect us. We are all connected as part of the human family and, in either case, we have both an opportunity and a responsibility. These are opportunities to shine light into darkness, to make someone feel valued, to care selflessly. There is also a responsibility, to speak up about the value of life, to be willing to sacrifice in order to give support, to point to what is good and what is wrong.
Hearts and minds
The sweeping, dramatic measures taken in response to COVID-19 have shown what Canadians are capable of doing. They have shown our ability to be selfless, our willingness to give up some freedoms for the greater good of the lives and health of others. We have seen a heightened recognition of our connectedness, and the impact our actions and choices have on the lives of others.
The care shown for our vulnerable neighbours in response to this pandemic is heartening. It reminds us that hearts and minds can be changed, and maybe the change needed isn't as dramatic as we may have thought. Now we pray that hearts and minds may be open to see the connection between care for the born and care for the pre-born, and to be willing to make some radical changes to how Canada operates in order that all members of the human family may have their best chance at life.