Repeatedly, we are asked for non-pro-life sources that confirm our claim that Canada has no abortion laws. Given the polarized nature of the debate on abortion, I understand and appreciate the desire to find support from multiple voices. And so, this request became the inspiration for a position paper titled
Canada has no abortion laws.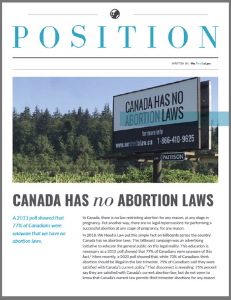 In the first section of that paper, we go over what it means that Canada has no abortion laws – that abortions can be performed at any gestational age, and for any reason, without legal repercussion.
But the meat of the position paper is in the appendices. Appendix 1 shows our thorough attempt to find a law in any federal or provincial regulations. Then Appendix 2 includes quotes from a wide variety of journal articles or books that all say the same thing: Canada has no abortion law.
For example, Erin Nelson, a law professor, wrote in Canadian Health Law and Policy – the textbook recommended by my health law professor at Law School – "Canada is the sole Western nation without any criminal (or direct governmental) control over the provision of abortion services. Under current Canadian law, a woman may have an abortion at any time, for any reason."
Peter Hogg, Canada's leading constitutional law expert, lays out some history: "In Morgentaler, the restrictions on abortion in the Criminal Code were struck down as unduly depriving pregnant women of liberty or security of the person, contrary to section 7 of the Charter. In obiter, the Court added that a less restrictive abortion law could possibly be upheld. In 1990, a bill which would have implemented a less restrictive abortion law was introduced into Parliament. However that law was defeated on a tied vote in the Senate, and the divisive issue of abortion has never been revisited, either in terms of a new law, or even in terms of the formal repeal of the law that was declared unconstitutional in 1988. While neither the Charter nor the Court precluded a legislative response to the Morgentaler decision, the abortion issue is so politically explosive that it eludes democratic consensus."
These are two legal experts in Canada. They are not pro-life or pro-abortion activists. They simply recognize that Canada has no abortion law.
There are also medical professionals who say the same thing, including Dr. Powell with the Women's College Hospital in Toronto who writes for increased access to abortion. She wrote in the Canadian Medical Association Journal: "Despite the fact that no law in Canada currently limits the provision of abortion services in publicly funded hospitals, abortion remains a discretionary procedure subject to local hospital policy and the availability of physicians." She rightly points out that some hospitals refuse to do late-term abortions, but there is no law compelling them to do so.
In fact, this is a fact that was even touted by the Abortion Rights Coalition of Canada who had presentations titled "Canada: Proof that no country needs abortion laws."
All of these sources and more are cited in our position paper. Our message that "Canada has no abortion laws" is accurate.
I think the reason people struggle to accept this is because of how extreme a position it is – Canada is the only democratic country in the world with no abortion law. Frankly, it's unbelievable. But it is the sad truth.