After a two-year pandemic hiatus, Marches for Life are coming back across the country this May! Grab some friends and make plans to attend the march nearest you!
Amplify your voice
The media historically has not shown the extent of the March for Life – but we still have tools to let others know what is happening and why. Take time during the week leading up to the March for Life to write a letter to the editor. You can find tips to writing a successful letter here. Even if it doesn't get published, email us a copy as we love to see what people write!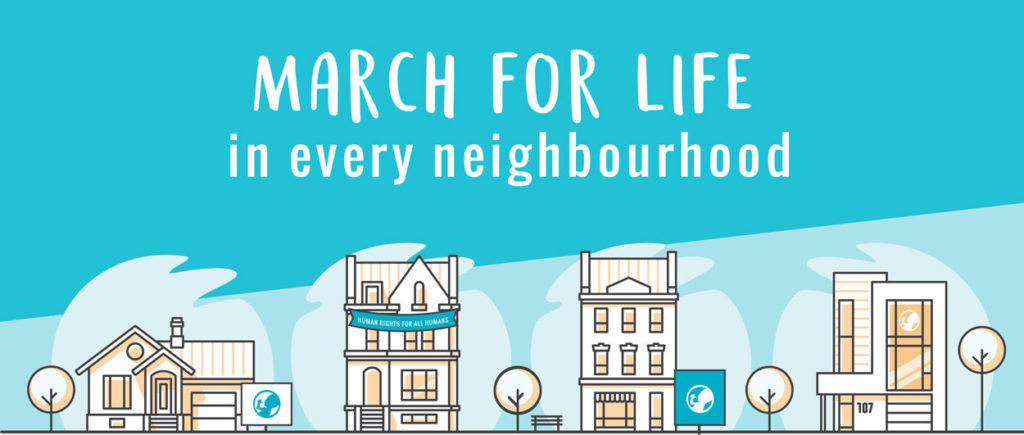 Can't make it to one of the marches? Bring the pro-life message to your neighbourhood! Over the past two years you all did an amazing job of bringing the March for Life home. Sidewalk chalk, window art, lawn signs, vehicle convoys – all of these are still great ways to participate in the March for Life from home.
Support those marching in the cities by finding a creative way to display a pro-life message at home. Don't forget to send us a picture of your efforts at [email protected] or tag us on social media so we can inspire others with your action!

If your neighbours wonder about your message, tell them that you are supporting the Marches for Life happening all over the country. Explain to them that Canada has no abortion law and this needs to change.
Some great questions to get them thinking:
Did you know Canada is the only democracy in the world to have no law restricting abortion?
Is there a point in pregnancy when you think abortion should be illegal?
Did you know abortion is used for sex selection, when the parents want a baby of the other sex?
At what point do you think a pre-born child becomes a human being? If/when they're a human being, shouldn't they have human rights the same as us?
We hope you'll join us in using the opportunity of the March for Life to again draw attention to the injustice of abortion in Canada.