Canada prides itself on being a world-leader in the area of human rights. So it wasn't surprising to hear that Prime Minister Harper was not going to attend the 2013 Commonwealth Heads of Government Meeting in Colombo, Sri Lanka.
A note sent out to Conservative Party supporters indicated that because the Sri Lankan government had "failed to uphold the Commonwealth's core values of freedom, democracy, and respect for human dignity," the Prime Minister would skip the meeting, and send a junior representative instead – Deepak Obhrai, Parliamentary Secretary to the Minister of Foreign Affairs and for International Human Rights.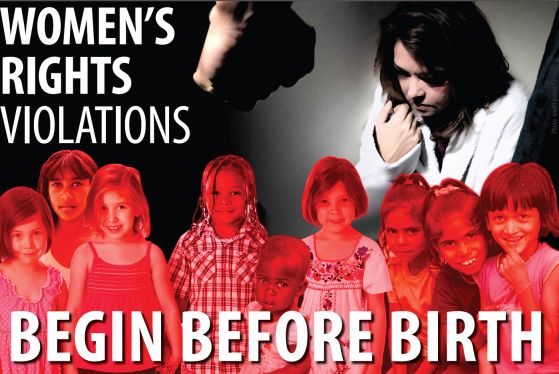 Canada has consistently called out leaders in jurisdictions around the world for human rights violations; and rightly so. The egregious offences being perpetrated against civilians in Sri Lanka following that country's civil war are despicable. Indeed, the detailed stories you can read on the Human Rights Watch website are gut-wrenching – one account tells of how a 34 year old Tamil woman was raped repeatedly and burned with cigarettes by Sri Lankan soldiers until she was willing to confess to being a rebel.
Canadians would undoubtedly support the Prime Minister's decision… if they knew about it. But the Commonwealth meeting is simply not on their radar, and the Prime Minister isn't doing this to score political points. He is staying home simply because it is the right thing to do.
However, while the Prime Minister is a human rights leader internationally, the same can't be said nationally.
A study published last year in the Canadian Medical Association Journal found that prenatal sex determination tests were being performed in Canada so that the pre-born child could be terminated if it wasn't the "right" gender.
A CBC undercover investigation found that ultrasound clinics were revealing the sex of the child in the womb and even had discussions with women who were planning abortions after learning the child was female.
Although Canada has no laws preventing this practice, countries around the world have woken up to the gender imbalance that has arisen from sex-selective abortion. In a 2009 study for the Center for Genetics and Society, Marcy Darnovsky found that 36 nations have enacted laws and policies to prohibit sex-selective abortions. These nations include the United Kingdom, Austria, Switzerland, Vietnam, India and even China.
While Canada is lagging far behind, Canadians understand that protecting women's rights begins in the womb. Polls consistently show that over 90% of the population supports a ban on sex-selective pregnancy termination. It's time for the Prime Minister to act on the strong public opinion that exists. On October 11th Canada will be participating in the 2nd annual 'International Day of the Girl Child'. Mr. Harper has an opportunity to strengthen the unity in Canada by working to protect women's rights. Rights that are increasingly being violated before birth.