I am a stay-at-home mom with 3 young children. There are times I feel as though I have left the "real world" to hunker down in the trenches, wiping noses, making peanut butter toasts, refilling juice cups, and playing peek-a-boo. I am not complaining! It's a different life, with challenges, but I feel blessed to do it.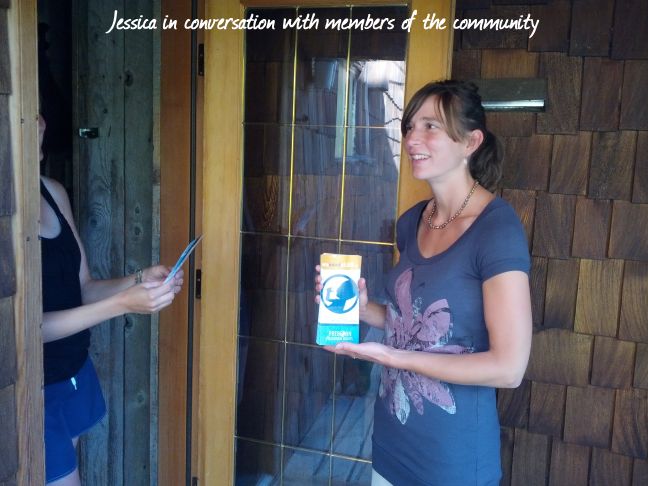 I don't have a lot of spare time, and yet I feel convicted to follow certain passions. One day I decided to just go out and pursue one. Maybe this was simply a bucket-list item, although more likely it was God putting it on my heart: I challenged myself to find time to go door to door in my neighbourhood with the pro-life message. A fundraiser for the Langley Pro-life Society was coming up and I dared myself to ask my neighbours for donations to help bring attention to the plight of pre-born humans.
I think I went to 10 houses. I expected some hostility and received a little of it. I expected some ignorance and someone did ask me, "Sorry, what is that, 'abortion', again?" One person suggested adoption instead of abortion (I agreed). The challenge I posed to myself brought on some great discussions!
I rang yet another doorbell. The kind, older lady politely smiled and, when she heard my request, she said that she was pro-choice.
We talked a bit more, and I explained there were no laws at all in Canada regarding abortion. When I told her a woman could have an abortion up to 9 months she hesitated. She asked me to wait a moment, and then she returned with a donation. Yes – a pro-choicer had just donated to the pro-life society. I was shocked and yet so encouraged. This was exciting!
Well, this IS exciting. We need people to bravely have those quick chats. I mention "bravely" because I admit it took a lot of courage (and prayer) to actually get my feet out the door. I realized that even as a stay-at-home mom I could find time to walk through my neighbourhood, either with my kids during the day or after they were in bed in the evening, and still be on the "front lines" of the pro-life battle.
I am sharing this story as an example of how hearts can be changed. When we engage people, minds can be opened to the pro-life message and lives can truly be saved. Let's keep working, keep trying, keep active, keep praying, and keep the discussions going, one step down the sidewalk at a time.
(Jessica Wildeboer is a pro-life mom in British Columbia)