This article was written by Justina Van Maren and is republished here with her permission
"It is a beautiful morning." That was my first thought as I stepped out of the front door at 7:25 this morning. The snow blanketed most of the ground, but it's been melting in patches, bits of grass are peeking through to remind us that spring is coming. A light mist hung just above the snow, giving the morning a sort of mystery, as if the day is full of secrets just waiting to be found out. The air is cool, it's still winter, but it's starting to smell like spring. As the sun began to slip over the horizon, I said it out loud, "It's a beautiful morning."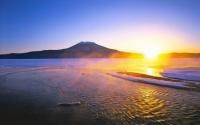 It's a beautiful morning, the start of what I hoped would be a beautiful new day. But it is a new day for Dr. Fraser Fellows too. It is a new day for abortion doctors across the country. And for a moment I had forgotten that it is a new day for three hundred pre-born babies, their last new day; and they didn't even get to smell the sweet smell of the coming spring. And suddenly, even the sunrise seemed tinged with red.
I felt guilty. I shouldn't feel so happy when this is happening. It isn't right, is it?
I haven't been active in the pro-life movement very long, only about two years, but I've learned a lot in those two years. One of the most valuable things I've learned is not to lose sight of what's important. That means not losing sight of the babies, of course, but it also means not losing sight of friendship and beauty and love.
It's an ugly world, a sinful, dark world. I know that, in some small way I've seen it. But there are reasons to laugh, there are reasons to smile, there are reasons to sing. I think of my family and my friends and I smile. I think of spring and I smile. I think of baby Noah, saved from abortion and born this past week and I smile until it hurts. Don't lose sight of the beauty.
The balance is important. Hanging onto beauty means we need to be careful not lose a sense of the magnitude of what is happening. We can't lose sight of that either. It's hard. It's hard knowing what we know, seeing what we see and trying to stay in the light without losing sight of the darkness. We can do it, though, and tonight, take time to watch the sunset, and as you see the sky streaked with red and gold: take a moment of silence, a moment for reflection, a moment for prayer.
"The true soldier fights not because he hates what is in front of him, but because he loves what is behind him." G.K. Chesterton.