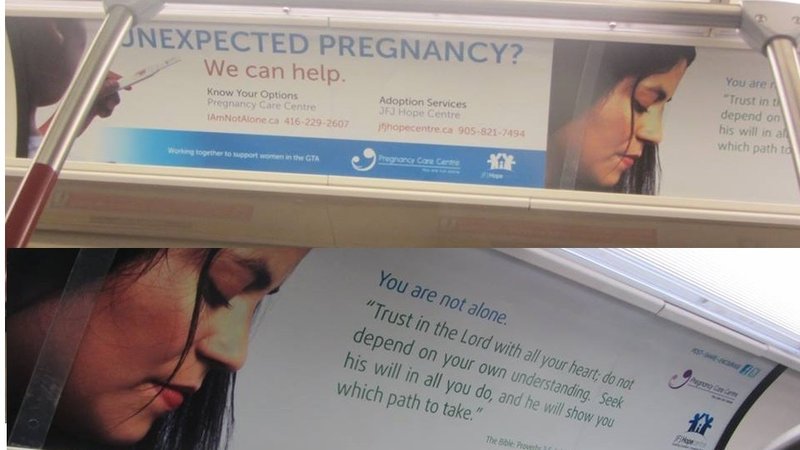 Due to the politics of abortion and the shrill voices that all too often dominate the public debate, there is another uninformed, misleading petition being circulated. It turns out there are a number of advertisements on Toronto Transit Commission buses offering help to women with unplanned pregnancies. This has abortion advocates upset and they want them taken down. They have gone so far as to allege that local pregnancy care centres are lying to their patients.
The petition states: "Pregnancy Care Centres are anti-choice and are known to provide women with false medical information on abortions." In actuality it is their claim that is a lie.
ACTION ITEM: Use this Compliment Form on the Toronto Transit Commission website to let them know you support freedom of expression and the ability of Pregnancy Care Centres to advertise on TTC buses.
Click here for link to Compliment Form. Please make use of one of the sample letters below by copy and pasting it into the form on the TTC website. You are welcome to edit but we're trying to make it easy for you. J
Thanks for your immediate attention to this matter!
The WNAL team
---
Dear Toronto Transit Commission,
I want to express my appreciation for the pregnancy care centre advertisements on your buses. These centres are vital to a community as the services they offer are exactly what those with unplanned pregnancies need.
It is unfortunate that choice-focused individuals and organizations take a fundamentally flawed approach to the issue of abortion. They frame the problem as, "Choice and bodily autonomy at all costs and anyone who opposes that opposes women's rights."  This "at all costs" approach is harming the very women it sets out to protect and it certainly is standing in the way of pregnancy care centres reaching out to the women who desperately need the help they can offer.
Sincerely,
---
Dear Toronto Transit Commission,
The pregnancy care centre ads on local buses are awesome! Clearly the folks who volunteer and work at these facilities have a caring heart and want to ensure that a woman with an unplanned pregnancy receives the best care possible.
A large majority of Canadians are not comfortable with the high rate of abortions and the truth is that pregnancy care centres play an important role in minimizing the perceived need for a woman to terminate her pregnancy. They are on the frontlines of assisting those who need help.
Sincerely,
---
Dear Toronto Transit Commission,
It troubles me to know that abortion advocates are upset by the pregnancy care centre ads currently displayed on your buses. Freedom of expression is something we should all take very seriously. The efforts by some to censor information they happen not to agree with ignores the reality that we live in a society with constitutionally protected freedoms – including the freedom of expression.
Simply because unplanned pregnancy is seen to be a controversial issue does not give one side of the conversation any right to shut out those looking for options other than abortion. Those advertising for abortion are free to advertise their belief too, and they do.
Thank you for recognizing the freedom of expression guaranteed to all Canadians.
Sincerely,