Recently, we shared a story about how a doctor and obstetrician repeatedly pressured a mother to abort her child due to her potential Down syndrome diagnosis. The positive story shared below contrasts with that, and shows what a difference there is in the experiences of Canadian women from doctor to doctor.
This illustrates why legislation surrounding the delivery of a prenatal Down syndrome diagnosis is so important. A prenatal diagnosis of Down syndrome comes with shock, as the expectations and assumptions of expecting parents are overturned. When you don't know the person yet, the child can get lost under the diagnosis.The time, support and information given to this couple made such a difference in their experience when they received a prenatal diagnosis halfway through their pregnancy. 
This story was generously shared with us by Will & Christina Dokter after they participated in a campaign started by the Down Syndrome Association of Ontario (DSAO). The DSAO is advocating for legislation that would give support and current information to parents faced with a prenatal diagnosis of Down syndrome. It would also prevent a physician from recommending any medical procedure that perpetuates a negative stereotype of Down syndrome.
If you are an Ontario resident with a connection to the Down syndrome community, consider participating in this campaign by going here.
__________________________________________________________________________
We discovered that our baby boy had a heart defect at his 20-week ultrasound.  We were offered non-invasive testing for Down syndrome, which we accepted.  The results told us that our son had a 91% chance of being born with Down syndrome. This news was delivered in a neutral tone, with no apology or negativity. We met with the geneticist in London, Ontario, and she was lovely. She told us our son would do everything that typical kids do, just in his own time. She gave us resources and connected us with the local Down syndrome support group.  We were told that we had the option to abort, but it was never pushed or even encouraged. We rejected that option immediately and it was never brought up again.
Despite the fact that we are staunchly pro-life, that we believe God has a purpose and a plan, that we loved our unborn son, and that we were connected with support, it was still a scary and stressful time.  I had to accept the diagnosis before I was ready to accept the support that came with it. That took a bit of time, and for parents who are scared and vulnerable, a negative word from their doctor is tremendously powerful. I am amazed and appalled at some of the stories I've encountered online where parents have to fight to defend the value of their child constantly.
Once I was ready to reach out for help, other parents of little ones with Down syndrome were amazing. They were kind, encouraging and supportive, and they unanimously shared unqualified joy and delight in their special kids. I began to see that having a child with special needs is, in fact, a rare gift. Our son has opened up our eyes to things we didn't know or see or experience before. He's teaching his siblings empathy, joy, acceptance, appreciation for small accomplishments, thankfulness, and many other precious things.
He has been an expensive child, from a taxpayer's perspective. He spent a week in the NICU at birth, 8 days in SickKids having his heart repaired at 5 months, endless weeks in the pediatric critical care unit dealing with complications that arose after his heart repair, and many other tests and appointments. He receives publicly funded therapy weekly, and is on a couple long-term medications which are covered as well. He will need support for the foreseeable future.  Perhaps this is one driving force behind the push to terminate these little ones – financially, they're hard on the system.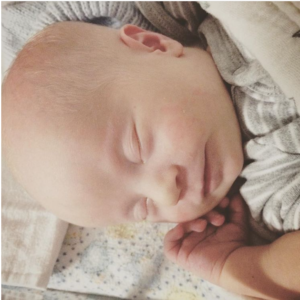 But the question is, who determines the value of a life?  Do we only get to live if we tip the financial scales the right way?  Is this what society is saying?  Is it what they want to say?
Our son James is a fully human being, made in the image of God. His life is indescribably valuable. If he were not here, we would have lost the opportunity to learn so many things that only he could teach us. Experiencing life with an extra special person is to be enrolled in a school like no other.
People in the Down syndrome community are the first victims of the current state of affairs, but it is actually all of society that will lose if this continues. The value of human life cannot be measured on contributions, or on chromosomes. Thankfully, our story was one of support and encouragement to parent this child we were given. We want every family given an unexpected prenatal diagnosis to have that same experience.